Junk Removal Service
Our junk removal service will make your life easier and less of a hassle.
Book Our Junk Removal Service
Mean Green Dumpster Rental offers full service junk removal for homeowners and small businesses. Whether you're in a hurry to finish a clearance job or you simply don't want to transport load after load of waste in the back of your car, we can provide you with the simpler, more convenient alternative.

Our junk removal services are ideal for people who are downsizing, moving, carrying out large clearouts, renovating, cleaning a business, clearing out garden waste, and more. Simply give us a call and request a date and time for your junk removal. We'll arrange for our team of removal specialists to visit your property and remove your unwanted junk.

With Mean Green, you don't have to worry about the cost or logistics of trying to get rid of your own waste. Our junk removal company can do it for you. We'll provide dumpsters to collect your waste, then take them with us once the junk removal job is complete.

Our junk removal services include:

Home and business renovations
Furniture disposal
Eviction cleanouts
Garden waste removal
Removal of unwanted items from
spring-cleaning or garage clearouts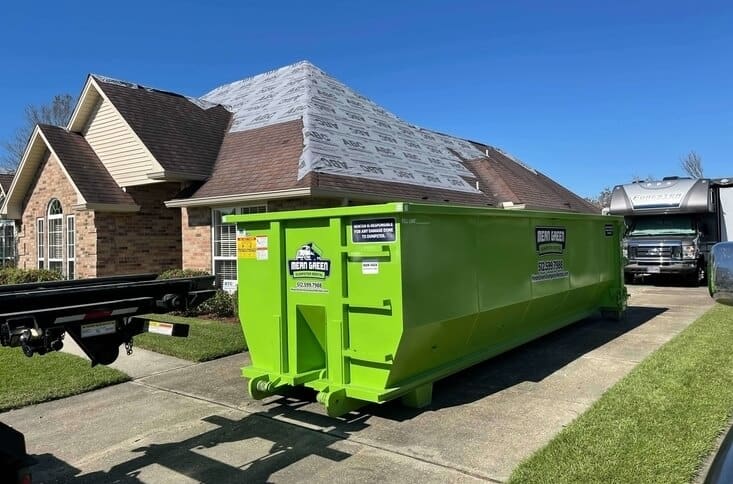 Junk Removal Dumpster Sizes
20 Yard Junk Container
Holds up to 3 tons, or 6,000 lbs. Suitable for gravel and concrete. Includes delivery and pickup.

30 Yard Junk Container
Holds up to 4 tons, or 8,000 lbs. Not suitable for gravel, concrete, or soil. Includes delivery and pickup.

40 Yard Junk Container
Holds up to 5 tons, or 10,000 lbs. Not suitable for soil, gravel, or concrete. Includes delivery and pickup.

Don't know what size dumpster you need for your junk removal job? That's fine - we're happy to help. Simply tell us which materials you'll be disposing of, and we'll let you know what size dumpster we think will be best.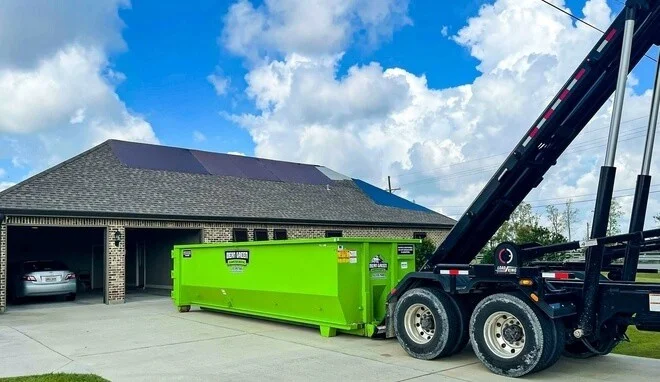 Working With Mean Green For Your Junk Removal
At Mean Green Dumpster Rental, we're here to simplify your junk removal jobs with our flexible, affordable junk removal services. We handle the entire removal process with care, reducing the risk of damage to your home or building.

Our junk removal team is trained and insured to safely handle the removal process, ensuring that items are mindfully disposed of in all situations.

Some of the biggest benefits of our service include:

Less Work For You
Some junk removal companies may only offer you the equipment you need for junk removal, and not the support. At Mean Green, we go one step further - we'll also help with the cleanup and load your dumpster up, requiring less hard work on your part.

Reduce Your Risk of Hazards
Clearing your own junk can be a dangerous job. You may unintentionally store items dangerously in your car, or even injure yourself lifting heavier items. Our professional junk removal services can take the waste clearance and disposal job off your hands, greatly reducing your risk of injury.

Save Time And Money
Driving back and forth to your local waste disposal center can be time-consuming, and you may not get the best deal on junk disposal. Our residential junk removal services eliminate the need for you to dispose of your unwanted items yourself, and our clean-up prices are fair and affordable.

Get Anything Removed
Whether you need furniture removal, yard waste disposal, hot tub removal, or you're just doing some spring cleaning and have too much household junk for regular disposal, our junk removers are happy to help. We'll do the heavy lifting for you, no matter what types of non-hazardous materials you need to remove.

Why Choose Us
Flexible Availability
No matter how big or small your clean-up job, we can make plenty of time to assist with your junk removal needs.

You can request a date and time for our junk removal services when you book in advance. We also offer emergency services, depending on availability.

Easy To Book
We've made the booking process as easy as possible for our junk removal services. Simply give us a call and tell us what you're looking for.

We'll walk you through our pricing, and you can schedule our service for your preferred date. We'll then visit your home or business on the scheduled date and clear your junk.

Affordable Pricing
We don't believe that junk removal services should be unaffordable for the average home or business owner. That's why our services are priced fairly, and are tailored to your unique situation.

You only pay for what we take, with no surprise fees thrown in at the last minute.

Great Customer Service
We know that large-scale junk removal on your property can be fairly stressful. Rest assured that our junk removers are experts at what they do - and, more importantly, they're friendly, and care about the service they offer.

We'll help you to feel at ease throughout the process with our customer-focused reliable service.

A 5-Star Rated Junk Removal Company
The junk removal industry is always growing, and it can be difficult to know whether to trust a new removal service with little experience and few reviews. The last thing you want is to waste your money on a service that ends up letting you down.

As an established junk removal company, Mean Green offers a highly-rated junk hauling service for homeowners and small businesses looking to get rid of their unwanted items.

With our upfront pricing and flexible offering, we're an affordable, convenient choice for waste disposal and cleaning projects. From old furniture to exercise equipment, large appliances to e-waste, we're experienced in removing it all.

What size dumpster for junk removal?
That really depends on how much you have to dispose of, what you've got to throw away, how much room you have on the site, and a variety of other factors. The dumpster rental sizes we carry at Mean Green Dumpster Rental include: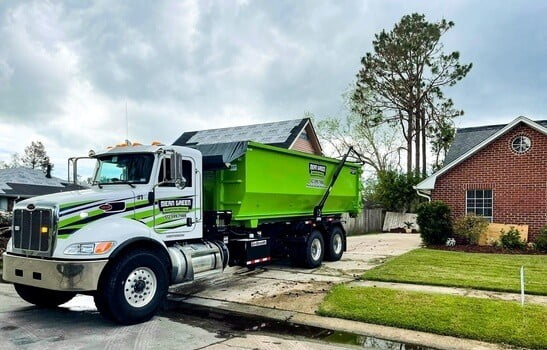 This is the most common size of dumpster for use in residential and commercial settings. At 22' x 8' x 4', a 20-yard dumpster can hold approximately 10 pickup loads of construction material and other debris.
Measuring 22' x 8' x 6', a 30-yard dumpster can hold significantly more than a 20-yard dumpster. In fact, you can toss nearly 200 of the 33 gallon large trash bags into one of these with ease.
If you're undertaking a significant remodel or construction project, a 22' x 8' x 8', 40-yard dumpster is the best choice. This can hold nearly 30 pickup truck loads of construction material and debris.
The Mean Green Guarantee
Fast Delivery
Mean Green Dumpster Rental provides prompt delivery and pickup of your dumpsters, so you can focus on running your business.
Best Prices
We take your trash seriously. That's why Mean Green Dumpster Rentals offers the best pricing for dumpster rental and junk removal in the Austin area.
Unmatched Service
We are a customer service business first, dumpster rental company second. That means we put the needs of you, the customer, before all else.
Schedule You Junk Removal With Mean Green Today!
Whether you're ready to get started on a large-scale remodeling project, or you just want to get rid of the junk in your basement, contact us today! Our junk removal service is fast and affordable.