Roll-Off Dumpster Rental
We'll promptly deliver and pick up your Roll-Off dumpster for your project.
Rent a Local Roll-Off Dumpster
Renting a dumpster in your town or city can be difficult. Your local company may have no availability for last-minute orders, the rental period may be too short, or you may need to arrange to collect and drop off the dumpster yourself.
It's not just about finding a dumpster rental service that can work on your terms - it's also about making sure that the company offers the right dumpsters to suit your needs.

With Mean Green Dumpster Rentals, you can enjoy the convenience of having a dumpster delivered straight to your site, for your preferred rental period. We have dumpsters of all sizes and can cater to all manner of projects, no matter how large in scale. Our roll-off dumpsters include:

Roll-Off Commercial Dumpsters
To clear high volumes of waste, use our commercial dumpster rental solutions. You can choose from a variety of dumpster sizes depending on the waste you're dealing with.

Whether you're based in a single location or you have multiple facilities, we can provide a suitable roll-off dumpster to accommodate your cleanups. We'll properly dispose of your trash, recycling materials, and more. Exact prices depend on local disposal fees.

Roll-Off Construction Dumpsters
Whatever you're building or demolishing, it's likely that your construction company generates tons of waste every month.

At Mean Green, our high-capacity roll-off dumpsters are suitable for a variety of materials, including concrete, gravel, and soil. We'll help keep your construction site free of yard debris and dispose of your waste as requested by you.

Residential Roll-Off Dumpsters
Our residential dumpster rental service is best suited for home renovations and garage clearouts. If you have too much waste to dispose of yourself, it makes sense to use a roll-off dumpster.

Simply fill the dumpster within your requested rental period, then we'll take it away and dispose of your waste for you.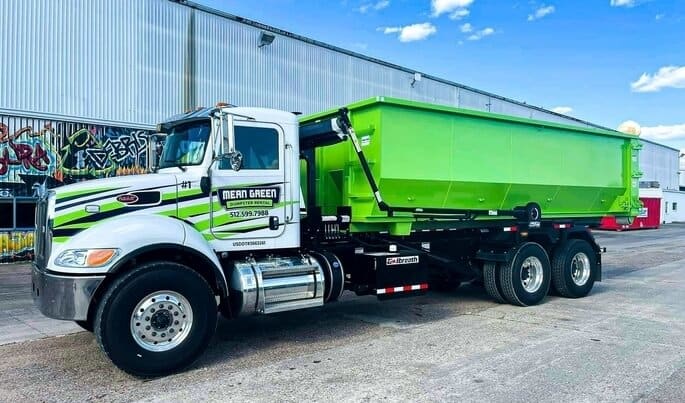 Dumpster Rental Sizes
Our roll-off dumpster rental sizes are listed below. All dumpsters have a capacity of 10 tons:

20 Yard Container
Suitable for gravel and concrete. Includes delivery and pickup.

30 Yard Container
Not suitable for gravel, concrete, or soil. Includes delivery and pickup.

40 Yard Container
Not suitable for soil, gravel, or concrete. Includes delivery and pickup.

If you need help choosing between dumpster sizes, we're happy to offer our advice. Simply tell us which materials you'll be disposing of, and approximately how much you have. We'll then help you determine how many dumpsters you need, and in what size.

Benefits of Working With Mean Green Dumpster Rental
At Mean Green Dumpster Rentals, we aim to simplify the roll-off dumpster rental process. All you need to do is call us and schedule your rental period, then receive your roll-off dumpster right when you need it.
Some of the biggest benefits of our service include:

Streamline Your Process
When you hire from a dumpster rental service, you don't have to waste time disposing of your own waste.

If you're on a tight deadline, or you're just keen to finish your project as quickly as possible, renting a roll-off dumpster can help you to do so.

Reduce Hassle
Having to manage your own junk removal isn't only time-consuming and expensive - it's also more fuss than it's worth. When you choose roll-off dumpster rental, you won't be responsible for any of the difficult stuff. You can simply fill your dumpsters and wait for them to be collected.

Save Money
Dumpster rental is more affordable than purchasing your own roll-off dumpsters, transporting from site to site, and paying to dispose of your waste.

A dumpster rental company like Mean Green charges a much smaller flat fee for your hire period, including the price of dumpster delivery and waste disposal. The exact cost of our dumpster service depends on your location, the amount and type of debris, the length of your rental period, and the size of the dumpster.

Dispose of Everything
Our roll-off dumpster service is intended for a broad range of uses. In most of our dumpsters, you can discard a variety of non-hazardous waste materials, including yard waste, cloth, metal, packaging, construction materials, hardware, and flooring.

We have dumpsters designed for municipal solid waste, heavy debris, yard waste, and more. We aim to offer an all-in-one solution, so you only need to consider alternative waste disposal options for your hazardous materials.

Why Choose Us
Multiple Dumpster Sizes
When you hire from a dumpster rental service, you don't have to waste time disposing of your own waste.

If you're on a tight deadline, or you're just keen to finish your project as quickly as possible, renting a roll-off dumpster can help you to do so.


A Reliable Service
When you book a roll-off dumpster rental with Mean Green, you can rest assured that your dumpster will arrive on time, every time.

We know how frustrating it can be when a business lets you down. We want to ensure you can work as efficiently as possible, and that's why we stand by our word and deliver the service you expect from us.

Affordable Pricing
Our roll-off dumpster prices vary depending on your dumpster rental period, and the size and quantity of dumpsters required. However, we do offer pricing options to suit smaller budgets, depending on your situation.

If you're looking for the best value-for-money dumpster rental service in your area, look no further than Mean Green Dumpster Rental.


Flexible Rental Terms
We're not only flexible with dumpster sizes and dumpster cost. We know that not everyone wants to hire a roll-off dumpster for the same period of time.

Perhaps you have a project that will take weeks to complete, or you want to whizz through a clearing or demolishing job in a day. You only want to pay for when your roll-off dumpster is in use - and that's why we offer flexible rental terms based on your needs.

A 5-Star Rated Roll-Off
Dumpster Rental Company
Mean Green Dumpster Rentals is one of the most highly-rated roll-off dumpster rental companies amongst businesses looking to simplify their waste management processes.

We're particularly popular with businesses in the construction industry, thanks to our flexible rental solutions, affordable pricing, and friendly team.

We're always happy to help you to plan and coordinate your project, whether you want to work our dumpster services into a tight job, or you need advice on which roll-off containers are best suited for your needs. Our willingness to go above and beyond with customer service makes us a popular choice for businesses looking to rent a dumpster with no hassle and no hostility.

What size dumpster should I get?
That really depends on how much you have to dispose of, what you've got to throw away, how much room you have on the site, and a variety of other factors. The dumpster rental sizes we carry at Mean Green Dumpster Rental include: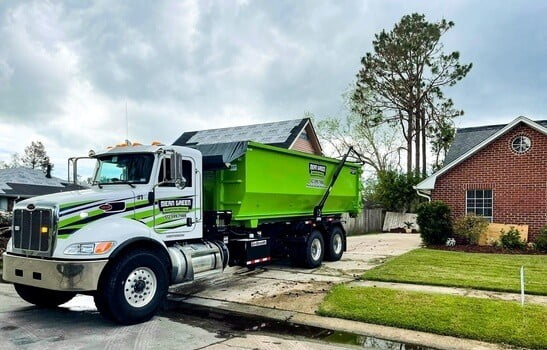 This is the most common size of dumpster for use in residential and commercial settings. At 22' x 8' x 4', a 20-yard dumpster can hold approximately 10 pickup loads of construction material and other debris.
Measuring 22' x 8' x 6', a 30-yard dumpster can hold significantly more than a 20-yard dumpster. In fact, you can toss nearly 200 of the 33 gallon large trash bags into one of these with ease.
If you're undertaking a significant remodel or construction project, a 22' x 8' x 8', 40-yard dumpster is the best choice. This can hold nearly 30 pickup truck loads of construction material and debris.
The Mean Green Guarantee
Fast Delivery
Mean Green Dumpster Rental provides prompt delivery and pickup of your dumpsters, so you can focus on running your business.
Best Prices
We take your trash seriously. That's why Mean Green Dumpster Rentals offers the best pricing for dumpster rental and junk removal in the Austin area.
Unmatched Service
We are a customer service business first, dumpster rental company second. That means we put the needs of you, the customer, before all else.
Rent a Roll-Off Dumpster With Mean Green Today.
Whether you're ready to get started on a large-scale remodeling project, or you just want to get rid of the junk in your basement, contact us today! Our dumpster rental services include same-day delivery to your location.